The Event Reference field allows you to create an alias name for the Event but does not affect how the EventName is printed on the ticket.
Selling Tickets
Prerequisites: SeatMap, PriceGuide, Event, Sale
Main Screen > Checkout or Event Screen > Checkout
Checkout Entry Screen: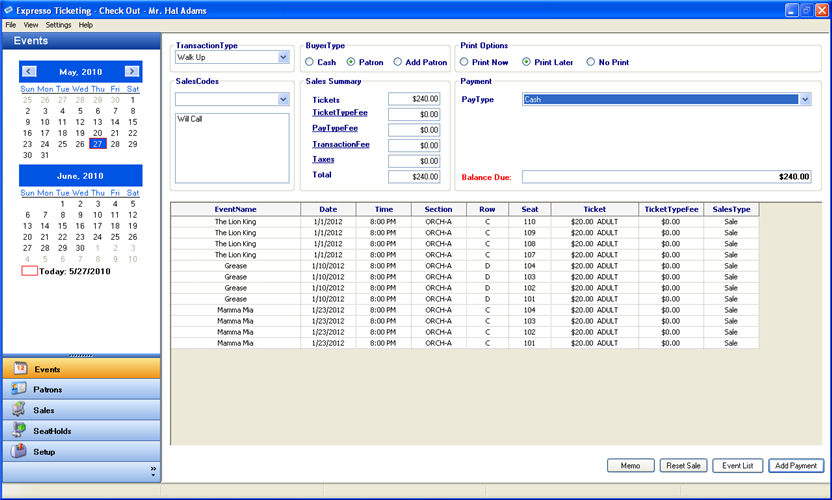 TransactionTypes - automatically populated from a default list of system TransactionTypes. Any fees assigned to the TransactionType during setup will be added to the transaction total.
BuyerType

Cash - typically a walk-up or one time customer that you do not wish to maintain a history and typically pays with Cash.

***Note: A Cash buyer type may use other methods of payment, however capturing contact and mailing information is not possible.


Patron - typically a recurring customer who's sales history and payment information you wish to maintain. A patron includes individuals such as season ticket holders, donors, businesses, employees, etc.
Add Patron - adding a Patron allows you to track sales history, create custom summary and detail reports, store contact and payment information, monitor seating assignments and create mail tickets for will-call and delivering tickets.

Print Options

Print Now - automatically prints the transaction once payment is processed.
Print Later - does not print tickets until a batch job is run through the Sales module. Does not assign a ticket number until the ticket is printed.
No Print - will never print a ticket for the assigned seat. You will not have the option of printing or reprinting this type of ticket.

SalesCodes - displays a dropdown list of SalesCodes created during setup. Applying a SalesCode allows you to query specific sales for custom lists and summary reports.
Sales Summary

Tickets - total price of all tickets included in the transaction.
TicketTypeFee - total ticket fees assigned to each TicketType during setup.
TransactionFee - total transaction fees assigned to each TransactionType during setup.
PayTypeFee - total pay type fees assigned to each PayType during setup.
Taxes - total transaction taxes assigned to each TaxType during setup.
Total - sum of tickets and fees associated with the transaction.

Payments

PayType - contains a dropdown list of PayTypes created during setup.
CardHolder* - customer name as it appears on the card.
CardNo* – card number as it appears on the card.
Exp. Month* – expiration month as it appears on the card.
Exp. Year* – expiration year as it appears on the card.
Authorization* - authorization code returned by credit card processor or software.
BalanceDue* - amount still owed on the transaction.
*Only required if Authorization was activated during TransactionFee setup.



Memo –used to attach notes, reminders and general information specific to the selected Transaction.
Reset - release selected Seats and reset the Transaction.
Reset - release selected Seats and reset the Transaction.
Event List – returns user to main Event List screen.
Add Payment – adds selected payment and completes transaction.
Completing Transaction
Select TransactionType from dropdown list.
Select BuyerType. See Patrons for information on searching and adding new Patrons.
Select the desired Print Options.
Select the desired SalesCodes from the dropdown list to include with the Transaction.
Confirm the TransactionFees included in the Sales Summary.

***Note:Clicking the link next to each fee will add or subtract the fee from the Transaction.


Select the desired PayType from the dropdown list.

***Note: If the PayType requires Authorization you will need to enter the CardHolder, CardNo, Exp. Month, Exp. Year and Authorization code before adding the payment. See TransactionFees to setup Authorizations.


Enter the amount to apply to the selected PayType.

***Note: Repeats steps 6-7 for multiple payments.


The Transaction will be completed once there is no longer a balance due or you choose not to add payments.